All Saint's Church Warlingham
Home Page
Welcome to worship! Join Rev Michelle in upper room for a live stream Eucharist for the seventh Sunday after Easter, the Sunday after Ascension for the Warlingham with Chelsham and Farleigh parishes
Due to the Coronavirus outbreak All Saints' will be closed for the time being
Take a 360 degree look around the church
"From the moment I arrived there was
a warm welcoming atmosphere,
smiling faces, friendliness and
helpful support for one another".
Contacts
Team Rector: Reverend Michelle Edmonds

01883 623011
Vacant
01883 624125 m: 07948 248030
The parish of All Saints' Warlingham takes the safeguarding and care of children and vulnerable adults very seriously. Further information about this can be found at
Safeguarding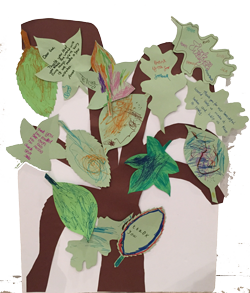 Messy Church Tree produced by our young artists in the theme of Creation!
Memorial Inscriptions at All Saints'
Memorial inscriptions and burial records provide a wealth of information about social, local and family history. The inscriptions can be thought-provoking, humorous and informative, and the gravestones themselves can be seen as works of art for all to admire.
For over ten years a team of volunteers have continued to read and record the inscriptions on the graves in the churchyard. Although the record is not fully complete it is a wonderful insight into the lives and times of our community. Click here to see the record