All Saint's Church Warlingham
Home Page
Happy Sunday everyone! We join together livestream and in church for the 8th Sunday of Trinity.

Posted by All Saints' Warlingham on Sunday, 2 August 2020
All Saints' is currently open for private prayer 12 noon - 4pm Monday to Saturday and on Sundays and Wednesdays for public worship at 10am.
Take a 360 degree look around the church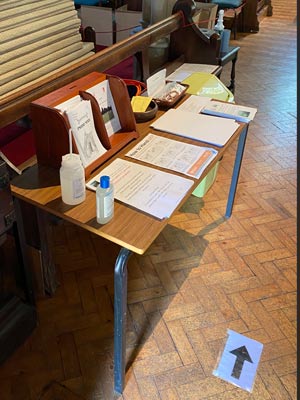 Welcome back to public worship at All Saints'
Social distancing means we have fewer available seats. Please be patient and use the hand sanitiser before we show you to your seat.
Because of track and trace we will be recording visitors details.
The one-way system is to help us maintain distancing
Communion or blessing will be taken standing by the lectern. Revds. Michelle and Ruth will remain silent at this time
Congregational Singing is not currently allowed. However, John will be at the organ supported by a solo singer (a cantor).
The service will be live streamed. Let us know if you do not want to be filmed.
The vestry will be available with the live stream, and as an overflow.
Can you kindly wear a face covering in line with current guidance, thank you.
When using the WC please follow some simple cleaning procedures of touch points, and leave the door open when you leave
Thank you
Revds. Michelle & Ruth, Gerry and Richard and the team
!
Memorial Inscriptions at All Saints'
Memorial inscriptions and burial records provide a wealth of information about social, local and family history. The inscriptions can be thought-provoking, humorous and informative, and the gravestones themselves can be seen as works of art for all to admire.
For over ten years a team of volunteers have continued to read and record the inscriptions on the graves in the churchyard. Although the record is not fully complete it is a wonderful insight into the lives and times of our community. Click here to see the record