All Saint's Church Warlingham Surrey
The Sunday Club for Children
The Sunday Club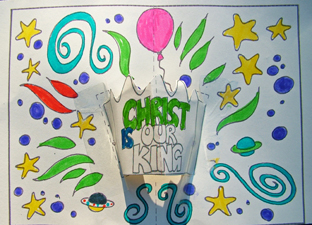 Creative work by the Sunday Club!!
All Saints' Sunday Club provides children aged 3 years and upwards with plenty of fun whilst learning about the Bible. Younger children accompanied by parents/carers are also welcomed. The Club takes place during the 9:30am Parish Communion service. After the first hymn the children leave, with their leaders, and go into the adjacent vestry where they are introduced to the theme for the day from the Bible. The children take part in varied and interesting activities which help them to understand the theme. These activities include art, drama, music and games.
The children rejoin the service about half an hour later and share with the rest of the congregation something of what they have been doing. They stay in church for the remainder of the communion service. The Sunday Club does not normally meet during school holidays or on the second Sunday of the month when there is instead an All Age Service in which the children take part.