All Saint's Church Warlingham
Home Page
Singing at the the Big Christmas Sing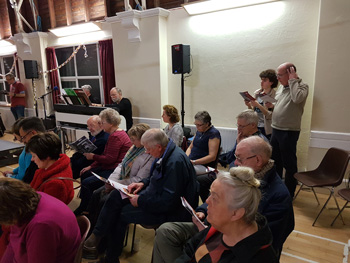 Regular Church Services

Sunday

9:30am  Parish Communion & children's
Sunday Club
9:30am  All Age Communion (2nd Sunday)
6:00pm  Choral Evensong (1st Sunday)
Wednesday

10:00am  Holy Communion
Electoral Roll

A new Electoral Roll is being prepared, and if you want to be on the Electoral Roll for All Saints' Warlingham (i.e. eligible to cast a vote at the Annual Parochial Church Meeting among other things), you need to fill in a form requesting inclusion and return it to Linda Prickett, the Electoral Roll Officer for All Saints'. The new Roll replaces the old one and you will not automatically be transferred. Of course you can join the Roll if you have not been on it before.
The form needs a declaration that you are baptised and aged 16 or over, and have signed a form of application for enrolment, plus one other requirement relating to Church membership and residence.
Forms are available at the back of Church this Sunday and next Sunday, via this link Electoral Roll Form and can be e-mailed to you (ask at Prickett@btinternet.com) and returned by post.
Please fill in the form and return it as soon as possible - it only happens every six years!
More details if needed from / or any questions directly to Linda at that address, in person, through clergy or churchwardens