Dear Parishioners,

The Team Rector Revd Michelle Edmonds, Assistant Curate Revd Ruth Chapman, Reader Mark Lanyon and Church Wardens from the Warlingham with Chelsham and Farleigh team have met to discuss the best way forward in terms of church services in light of the latest lockdown. Given the seriousness of the current situation we have taken the difficult decision to suspend public worship in our church buildings, All Saints', St Christopher's, St Mary's and St Leonard's for the rest of January. This will come into effect after the 10am Holy Communion service tomorrow Wednesday 6th January which will also be live-streamed. Regular Sunday worship will continue to be live-streamed and will be available on the churches' Facebook pages on Sunday mornings at 10am. The weekly Wednesday Holy Communion service from All Saints' will also be live-streamed at 10am.
All Saints' church and St Christopher's church will remain open for private prayer during the week along the same lines as before.
The team and Church Wardens will meet again to reassess the situation and safest way forward from the end of January.
Please be assured of the prayers of the team for you and those you love and care about and hold fast to the truth that the light shines in the darkness and the darkness did not overcome it. (John 1:5)
.
Please Click here to receive the link to the Zoom service, Zoom evening prayers and other activities. St Christopher's is open from 10am - 3pm for private prayer. All Saints' Monday - Saturday 12 noon - 3pm. We look forward to seeing you.
St Mary's, following Government Guidelines, will no longer be open for public worship.
God bless
Revd Michelle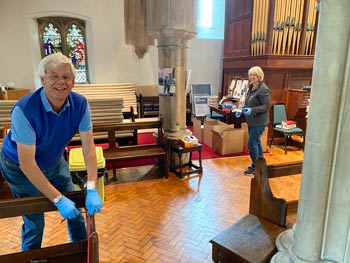 Contacts

Team Rector: Reverend Michelle Edmonds
01883 623011


Assistant Curate Reverend Ruth Chapman
07974 640450
All Saints' Facebook
@allsaintswarlingham
Parish News
Go to Parish News
Sign up for our weekly e news sheet

Click here to sign up for weekly esheet