Warlingham, Chelsham and Farleigh Team Ministry

Farleigh St Marys

All Saints'

St Christophers

St Leonards
Dear Parishioners,
We have suddenly been thrown into unprecedented days by the pandemic of the coronavirus COVID-19. We are experiencing a global shutdown with economic implications and ways of being which will be far reaching and beyond the limit of our sight at the moment, but we must not give in to fear even though we might be terrified; we must not lose hope even though things may look hopeless; we must not abandon faith - for God will not abandon us ever.

All Saints' is open for private prayer Monday to Saturday from 12 noon to 3 pm. Sadly public worship is no longer able to be offered. The last date being Wednesday 4th November. Visit All Saints' Facebook page where our streamed services will be shown.
Please Click here to receive the link to the Zoom service, Zoom evening prayers and other activities. St Christopher's is open from 10am - 3pm for private prayer. We look forward to seeing you.
St Mary's, following Government Guidelines, will no longer be open for public worship.
God bless
Revd Michelle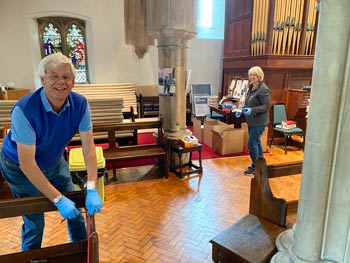 Contacts

Team Rector: Reverend Michelle Edmonds
01883 623011


Assistant Curate Reverend Ruth Chapman
07974 640450
All Saints' Facebook
@allsaintswarlingham
Parish News
Go to Parish News
Sign up for our weekly e news sheet

Click here to sign up for weekly esheet
The Team Ministry of Warlingham Chelsham and Farleigh takes the safeguarding and care of children and vulnerable adults very seriously. Further information about this can be found at
Safeguarding